Mercedes-Benz Vito 119 BlueTEC 4x4 DC Extra Lang XL Dubbel Cabine
Prijs: €33.900,- ex BTW of €,- p/m bij maanden
Meer Foto's
---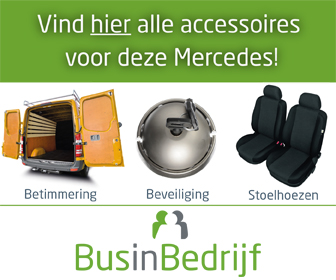 Algemene gegevens
Prijs
€33.900,-
Merk
Mercedes-Benz
Model
Vito
Uitvoering
119 BlueTEC 4x4 DC Extra Lang XL Dubbel Cabine
Km-stand
59.505
Bouwjaar
2-2016
Kenteken
141246
BTW / Marge
BTW
Kleur
Zilver


Technische gegevens
Versnellingstype
Automaat
Aantal versnellingen
7
Aantal deuren
4
Carrosserie
Dubbel Cabine


Motor
Brandstof
Diesel
Cilinderinhoud
2143 cc
Vermogen
140 kw / 190 pk
Opties
ABS, Airbag bestuurder, Airbag passagier, Airconditioning, Alarm, Boordcomputer, Centrale vergrendeling, Cruise control, Elektrische bedienbare ramen voor, Metallic lak, Navigatiesysteem, Parkeersensor, Radio cd-speler, Startonderbreker, Stuurbekrachtiging, Trekhaak, Vierwielaandrijving (4x4), Xenon verlichting
Opmerkingen
Carrosserievorm: Bestelbus dubbele cabine
CO2 uitstoot: 177 g/km
Emissieklasse: Euro6
Aantal sleutels: 0

Extra opties/accessoires: Achteruitrijcamera, Centr. deurvergrendeling (afstandsbed.), Electrische ramen, Lang, Leder stuur, LED verlichting, Multistuur, Navigatie orgineel groot, Parkeer assistentie systeem, Parkeersensoren voor & achter, Ramen in laad-/passagiersruimte links, Ramen in laad-/passagiersruimte rechts, Schuifdeur laad- /passagiersruimte rechts, Stoelverwarming, Traction Control, Zij-airbags

- WUERZBURG 235L
- PAINT COLOR, BRIL.SILVER METALLIC MB 9744 9744
- BAUREIHE 447 C447
- BASIC SUSPENSION CF0
- BUFFER BATTERY FOR STARTING PROCESS E34
- SERIES 447 F447
- COMBI FKB
- CLIMATE ZONE 1 (COLD/COMFORT) HI1
- BASIC IG5
- INLAND (GERMANY) IL1
- EU/EFTA REGION IL4
- MAINTENANCE INTERVAL 40,000 KM JX2
- LEFT-HAND STEERING L
- EUROPE LX5
- ALTERNATOR MANAGEMENT MG9
- Customer service measure OA3
- WHEEL SIZE GROUP 1 R21
- TIRE MANUFACTURER CONTINENTAL (10) RF1
- M+S TIRES RM1
- VIN10:1
- VIN11:3
- WHC:WDF
- REGISTRATION CERTIFICATE, PART II X30
- COC PAPERS XC9
- AENDERUNGSPAKET 5 - II XN5
- MERCEDES-BENZ MOBILOVAN WITH DSB AND RUST-TH.WARR. XO9
- PLATES / PRINTED MATERIALS GERMAN XU1
- MODEL GENERATION 0 XZ0
- FIRST AID BAG Y10
- HAZARD WARNING TRIANGLE Y44
- SALES CODE 0 ZC5
- APPROVAL AS TRUCK Z41
- MIXTO ZK4
- BLUEEFFICIENCY PACKAGE MX0
- WEIGHT VARIANT 3,050 KG XA6
- WEIGHT VARIANT 3,050 KG XA6
- TRAILER LOAD 2500 KG QA4
- METALLIC FINISH IL6
- TRAILER HITCH WITH NON-REMOVABLE BALL HEAD Q22
- HEATED AND ELECTRICALLY ADJUSTABLE OUTSIDE MIRROR F68
- LED INTELLIGENT LIGHT SYSTEM LG2
- HEADLAMP ASSIST LA2
- TAIL-, BRAKE AND TURN SIGNAL LIGHTS IN LED TECH. LG4
- ADAPTIVE BRAKE LIGHTS LE1
- RAIN SENSOR JF1
- HEATER FOR WINDSHIELD WASHER SYSTEM F48
- COLOR GLAZING IN REAR, BLACK GLASS W70
- HEAT-ABSORBING GLASS ALL ROUND H20
- LEFT FRONT WINDOW, FIXED IN SIDE WALL/SLIDING DOOR W16
- RIGHT FRONT WINDOW,FIXED IN SIDE WALL/SLIDING DOOR W17
- COLOR GLAZING IN REAR, BLACK GLASS W70
- LIFTGATE/REAR-END DOOR WINDOW W/ WIPER+WASHER SYS. W78
- AUDIO 15 EN7
- TWO-WAY LOUDSPEAKER FRONT EL8
- INSTRUMENT CLUSTER WITH PIXEL MATRIX DISPLAY JK3
- BECKER MAP PILOT E1N
- ACTIVE PARK ASSIST EZ7
- INDICATOR LAMP FOR WIPER FLUID LEVEL JA1
- TIRE PRESSURE MONITORING AT FA + RA, WIRELESS RY2
- TEMPOMAT (CRUISE CONTROL) MS1
- CO-DRIVER'S AIR BAG SA6
- WINDOWBAGS FOR DRIVER AND FRONT PASSENGER SH9
- DRIVER THORAX/PELVIS SIDEBAG SH1
- FRONT PASSENGER THORAX/PELVIS SIDEBAG SH2
- CENTER CONSOLE WITH 1-DIN SLOT FF2
- WOOD FLOOR V43
- LOCKABLE GLOVE COMPARTMENT F66
- ROOF PANELLING STANDARD VD2
- SIDE WALL INTERIOR PANELLING IN CARGO/PASS.COMP. V30
- SEMI-AUTOMATICALLY CONTROLLED TEMPMATIC A/C HH9
- HOT/COLD AIR DUCT TO PASSENGER COMP. H00
- ELECTRIC HEATER BOOSTER HZ0
- ELECTRIC HEATER BOOSTER HZ0
- SEAT HEATER FOR DRIVER H16
- SEAT HEATER FOR FRONT PASSENGER H15
- BLACK TUNJA FABRIC VY2
- DRIVER SEAT, COMFORT SB1
- PASSENGER SEAT, COMFORT SB2
- 3-PASS. BENCH SEAT, 1ST ROW W/ FOLDING OUTER SEAT U71
- TAILGATE W65
- #
- ACTIVE SLIDING DOOR LOCK T14
- CHILD SAFETY LOCK ON DOORS IN PASS. COMP. T70
- SEAT BELT WARNING SYSTEM FOR FRONT PASSENGER SEAT J55
- INTERIOR LAMPS IN REAR LD9
- COMFORT OVERHEAD CONTROL PANEL LC4
- LED LIGHT STRIP IN CARGO AREA LC2
- ILLUMINATED MIRRORS FOR SUN VISORS FS5
- ANTI-THEFT ALARM SYSTEM FZ5
- INSIDE REARVIEW MIRROR F61
- REAR-VIEW CAMERA FR8
- COLLISION PREVENTION ASSIST JA6
- ATTENTION ASSIST JW8
- STEEL WHEELS 6.5 J X 17 RS7
- WHEEL BASE 3430 MM, LONG OVERHANG IN3
- TYRES 225/55 R17 RG7
- SPARE WHEEL WITH JACK RR6
- SPARE WHEEL WITH JACK RR6
- MULTIFUNCTION STEERING WHEEL WITH TRIP COMPUTER CL4
- STEERING WHEEL ADJUSTABLE IN INCLINATION & HEIGHT CL1
- HILL-START ASSIST E07
- PERMANENT ALL-WHEEL DRIVE ZG2


Getoonde prijzen zijn B2B (Business-to-Business) prijzen.

Bij verkoop Retail worden onze auto's afgeleverd met 6 maanden verzekerings garantie ? EUR495,- gem..

Santing Europe Cars B.V.
Riezebosweg 12
8171 MG Vaassen
verkoop@santingeuropecars.nl

Voor verkoop informatie kunt u contact opnemen met onze verkopers Sven Schlichter en Raimond Boerrigter op telefoon nummer +31 (0) 578676040 of via WhatsApp nummers +31 (0)6 13786971 / +31 (0)6 13488220.

Ook Financial Lease en Operationele Lease behoren tot de mogelijkheden, neem hiervoor contact op met Leander Jonkers +31 (0)6 12179453.

Maandag tot en met vrijdag zijn we geopend van 09:00 tot 18:00 uur. Op zaterdag en zondag zijn wij gesloten.

Graag tot ziens!


Financiel lease vanaf: €,- p/m bij maanden